More Than a Lodge
A Holiday Destination
Book direct and save
Room rates starting at $199.00 per night, double occupancy, extra person charge $ 40.00 per night plus taxes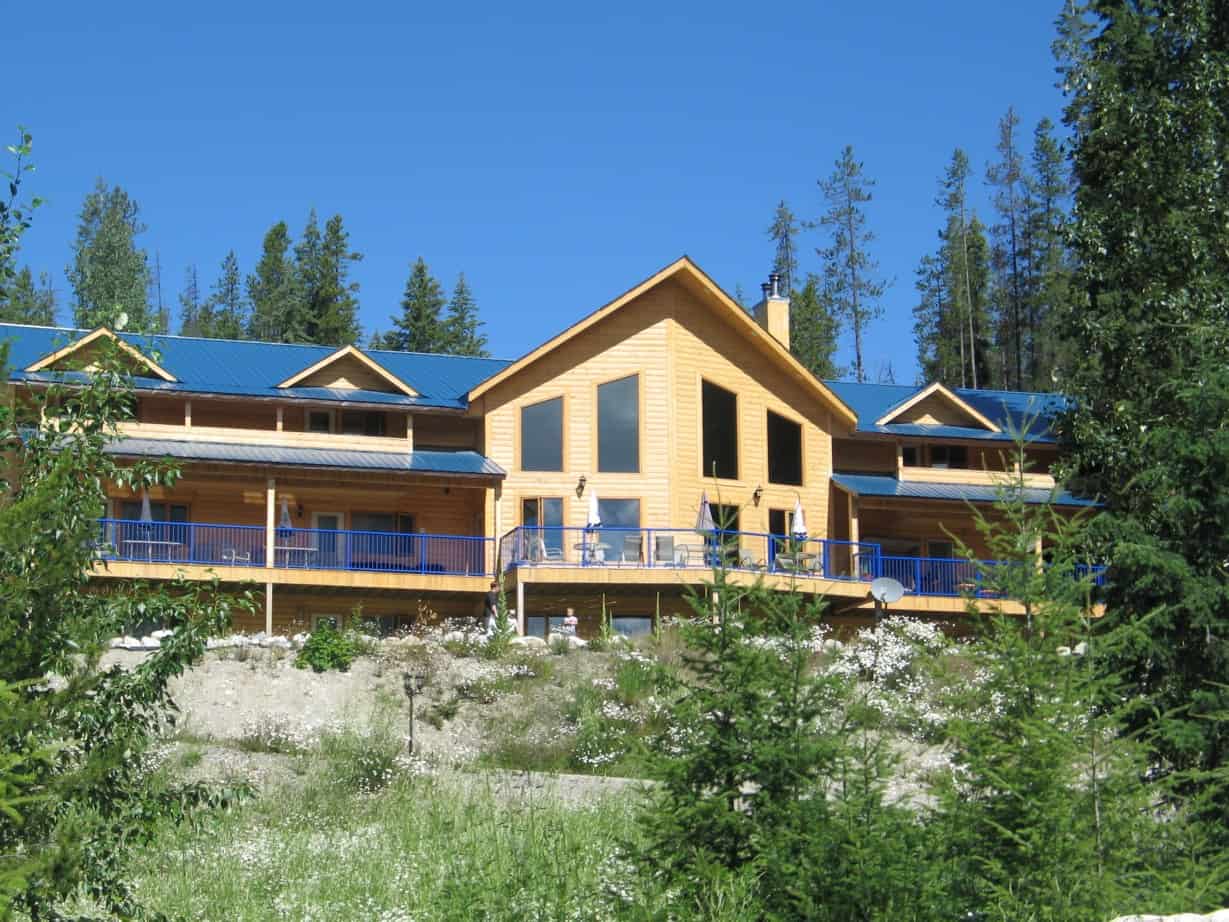 Luxury Bed & Breakfast Lodge
Glenogle Mountain Lodge & Spa is one of Golden's newer exquisite accommodations, designed to exceed all your getaway expectations.
Our attention to detail and outstanding service will contribute to your creation of a memory to cherish.
Our Lodge is nestled in a quiet, beautiful and secluded mountain setting, about 8 km north east and 400 m above Golden, British Columbia. You will find yourself amidst spectacular views of the Rocky and Purcell Mountain Ranges. The breathtaking view of the mountains and the bubbling creek will bring you back to your Center. Our licensed lounge and European cuisine will fill your spirit and ensure you have a grand getaway.
Glenogle features luxurious rooms with soft warm down duvets and fluffy bathrobes. We also have 5 private, cozy and fully equipped cabins for those romantic getaways.
Glenogle Lodge is the ideal setting for small weddings, romantic getaways, family reunions, vacations, retreats, or business meetings.
Indulge yourself in our comfortable surroundings, enjoy a massage after an active day or just relax.
Glenogle Mountain Lodge
913 Oster Rd
Golden, BC
V0A 1H1
Contact Us
info@glenoglelodge.com
250-344-7638
.. Make you feel welcome.
.. Give you a clean and fresh room that reflects the highest quality standards.
.. Respond promptly to any needs you might have.
… Give you excellent service that will make you want to return.
A fully Licensed Dining Experience
Dine With Us
Glenogle Mountain Lodge & Spa features a beautiful dining area with spectacular views and fireplace. The dining area was built around an extremely large tree, which lends to the amazing architecture of the lodge.
Our sumptuous meals are home cooked, using fresh organic ingredients as much as possible.
Escape from the world to this magnificent mountain resort property.
Glenogle Mountain lodge and Spa offers luxury and indulgence in harmony with tranquil super-natural surroundings. Allow yourself to sink into the peace and quiet found here and enjoy a rejuvenation of body, mind and spirit.
Take in the breathtaking views of the Rocky and Purcell Mountains from every corner of the property, from the large deck outside the fully-licensed lounge and restaurant, with background chatter from the bubbling creek below.
Surrounded by five National Parks (Glacier, Kootenay, Yoho, Banff and Jasper), it's easy to take advantage of the surrounding area's world-class recreational opportunities, using the Resort Lodge as a perfect place to star and conclude fantastic days of fun and adventure. Through-out the winter, venture across the valley to Kicking Horse Mountain Resort to enjoy some of the world's best skiing and snowboarding, snowmobile on one of the countless mountain riding options, cross-country ski, or back-country ski via Helicopters or touring routes.
Allow the warmth of the radiant, infloor- heating reach your feet as you walk across the expansive slate floor to have drink at the custom-built Fir Bar, to sit in front of the huge wood-burning fire place, or ascend to the beautiful Fir staircase to enjoy views into the mountains. Revel at the Great Room's centerpiece, a 400 year-old Douglas Fir from Revelstoke's Inland Rainforest brought to stand proudly in all its natural grandeur, weighing in at 10,000 lbs on the main floor and 2,000 lbs on the lower level.
In the summers, have a lazy morning on the terrace or upper deck while catching the morning sun, then enjoy a day of hiking, hang-gliding, rock-climbing, mountain-biking, river-rafting or sky-diving.